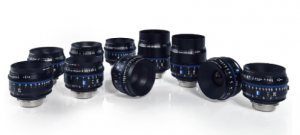 ZEISS eXtended Data with CP.3 XD lenses—Perfect tool for visual effects
Digital technologies have transformed traditional filmmaking and refashioned the market. New and innovative technologies in both production and post-production have paved the way for a more versatile, cost effective and advanced workflow. The ZEISS Compact Prime CP.3 family is the latest contribution from ZEISS to support creative and progressive filmmaking with an affordable, future-proof and premium quality lens set.  The ZEISS eXtended Data with CP.3 XD lenses extends the feature set with metadata-capable technology.
Visual effects specialist, producer and director Scott E. Anderson had a chance to test the ZEISS CP.3 XD lenses for the first time.  In the interview below, Scott talks about his work and this new development in filmmaking.
ZEISS: What is your role on and off the set?
Scott: With Digital Sandbox we are focusing on helping storytellers tell stories. It's a simple mandate that usually involves a lot of different equipment! We especially focus on how to make use of all the advances in computer and filmmaking technologies. We want to make these new technologies available to independent filmmakers, no matter how big, or small, their budget might be.
In general, my role really varies depending on the production. I work as a visual effects supervisor on-set and in post, and at the same time, I am chasing opportunities as a director on my own projects and test pieces like this with the new ZEISS Compact Prime CP.3 Lenses. Sometimes I am just an advisor and also help executive produce feature films. At other times, Digital Sandbox is helping produce projects.  As you can see my role now is much more wide reaching.  Still, most people will recognize me as a visual effects supervisor.
In that role I am really involved in the whole range of both the art and science of filmmaking. We are experienced in using technologies that are newer than a lot of the industry is using. But really, I am trying to apply that to general filmmaking, making sure that the technologies do not stand out but help make the cinematic or storytelling world bigger. Sometimes it just helps filmmakers to get things done safely or on a budget.
http://dsbx.us/wp/wp-content/uploads/2016/03/dsbx_full_logo_v01_900x170_optimized.png
0
0
Tech Support
http://dsbx.us/wp/wp-content/uploads/2016/03/dsbx_full_logo_v01_900x170_optimized.png
Tech Support
2017-05-19 13:44:11
2017-09-19 16:18:56
ZEISS eXtended Data with CP.3 XD lenses